DONATIONS TO UKRAINIAN REFUGEES
If any customers or local residents would like to donate items to help those fleeing Ukraine, Sussex Removals are sending donations directly to those in need. The first load was sent on Friday 11th March 2022 to deliver items to Poland and we continue to send donations ideally on a weekly basis. You can drop donations to their offices in Newhaven at Trafalgar House.  Joe, Bex and Alice and team are now busy getting everything ready for the next load.Please contact us if you would like to help or drop donations to the office, around the usual Removals and business duties. 
OFFICE OPEN FOR DONATIONS
Monday 8:45am-2:45pm
Tuesday 9am-5pm
Wednesday 8:45am- 2:45pm
Thursday 9-5pm
Friday: 9-5pm 
Delivery address:
Sussex Removals & Storage, 8-9 Trafalgar House, Quarry Road Newhaven BN9 9DD (our office is located on the ground floor through the main entrance)
OUR STORY
Sussex Removals are a removals and storage company in Newhaven, and we have been for the last 14-21 days or so running a huge campaign to get donations from the local community out to the Ukraine via charities and Refugee centers in Poland. We launched the idea on 8th March after a casual chat between colleagues around the office to find a way to help those arriving in Poland from the Ukraine, and so we decided we would try to get donations from the local community over to Poland. We put the first post up on Facebook at 6pm on 8th March and by 9th March lunchtime our office was filled to the door. More and more kept coming so by the end of the day a shipping container was filled too. On the 10th March we all sorted, packed and loaded a 3.5 tonne van and two volunteer drivers departed on Friday 11th March. The response and generosity was unbelievable, but it still kept coming. On Tuesday 15th March the BBC arrived and we were featured live on the 1:30pm and 6:30pm news, along with BBC Sussex radio the next morning!
The new coverage really helped spread awareness of our work and we not only doubled the incoming donations but we have so far managed to raise £6000 towards fuel and travel costs which is simply incredible. We have since sent a further 5 pallets and then another 25 pallets onto an artic lorry, that is around 15 tonnes of donations!! We really didn't expect it to become this huge but we are so very proud of the work we have done in the last two weeks and we plan to keep going as long as the Ukraine, and other countries need our help. As you can imagine the workload has been absolutely huge getting this organised, but we are doing everything we possibly can. Our team is made up of the owners, a team of 4-6 drivers, 2 part time office administrators, our Polish book keeper who was critical in getting this started, and a wonderful group of volunteers. We all work part time around our children and babies, so we are all giving huge amounts of time to make this happen.  
WHERE ARE THE ITEMS GOING TO? 
Your donations are going directly to a refugee centre in Poland called CH Turawa Park which is a disused warehouse, but is now like a processing centre for refugees. For safety reasons we cannot take the items into Ukraine. Two of the Sussex Removals team are Polish and are in direct contact with the representatives there, so will be delivering the first load to CH Turawa Park and any left over items will be going to an orphanage nearby where many lone Ukrainian children are arriving.  Ukrainian refugees are arriving at the border and are processed, given a hot meal then receive aid and move on through into Poland and elsewhere, so the items we have received will go to the people of Ukraine, their children, dependents and pets. [MAP 50.68790011725056, 17.975720930673088] 
JUSTGIVING 
We are gratefully still accepting monetary donations which will go directly towards fuel and ferry costs which are around £1500-£2000 per trip, If you would like to contribute, please see our just giving page below….https://www.justgiving.com/cro…/sussexremovalsaidtoukraine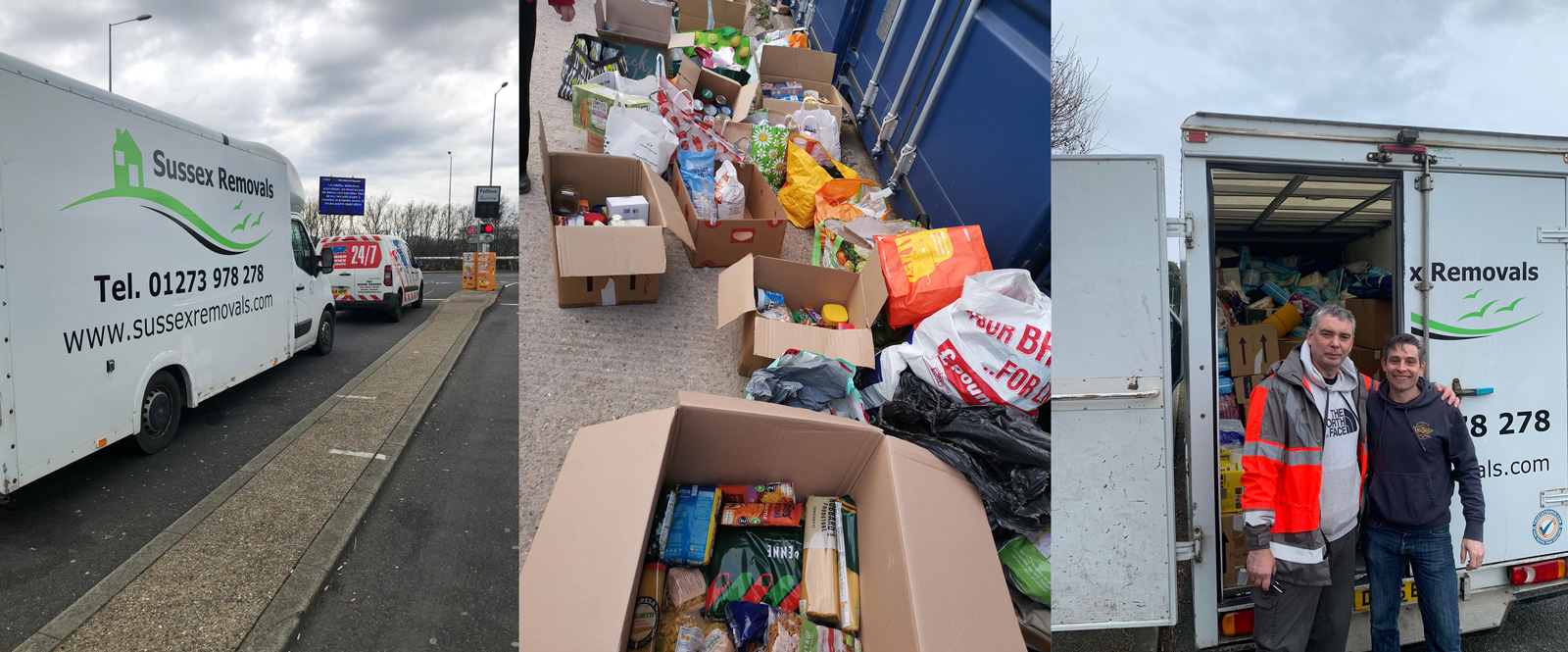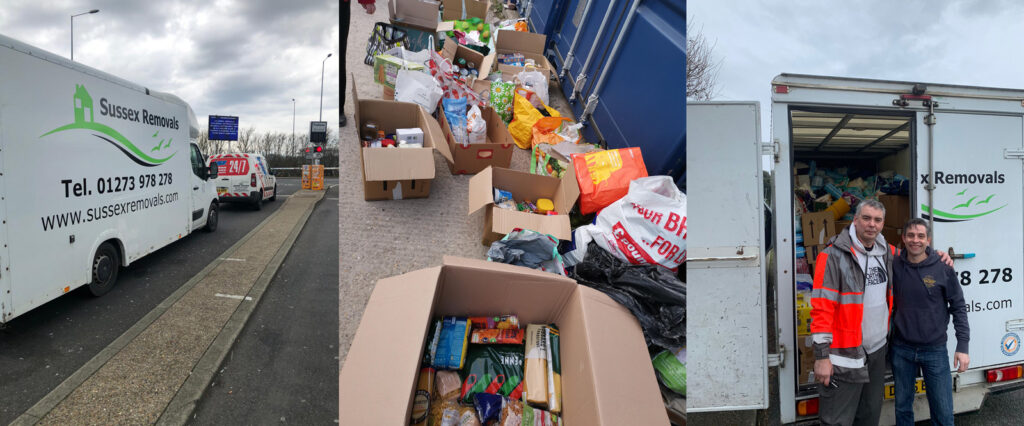 WHAT WE NEED:
We do not need any more clothing, blankets or disposable masks.
Food with a long expiration date that does not require storage in the fridge(especially buckwheat, instant hot chocolate and food for children). 

Household: batteries, toilet paper, small washing powders, detergents, dishwashing liquids, cleaning milk, toilet gels, floor liquids.

Pet: folding pet carriers, pet meds

Cosmetics: face creams, deodorant (women, men and teenagers), body balms, paper towels, toothpaste , toothbrushes, sanitary towels in boxes, wet wipes, hairbrushes, nail files, razors/shavers, sanitary pads, baby powder, oils and balms, baby toothpaste, baby toothbrushes, cotton buds, cotton pads. 

First aid: dressings, bandages, burners, disinfectants, patches, bandages, medicines, chemical hand warmers. 

Medication or equipment for specific illnesses or injuries, pain relief, Vitamins and supplements

Torches, batteries, led lamps, cell phones (not smartphones), power packs

Maternity & baby: Breast pumps (new), sterilising equipment like Milton, inhalators, sheets for children, bath sponges, dummies, Baby Bottles, Bottles, brushes, baby food all age ranges, breast pads, Different teats, Teething granules or gels, talcum powder, nappy rash creams, Specialised baby formula for the little ones with intolerance or allergies, items for premature babies items

Toys: cars, dolls, pencils, flashlights and paint for children. 

NEW school supplies, notebooks, pencils, writing accessories, children's backpacks, backpacks, backpacks (without toys). 

Utensils: Pots, pans, cups, glasses and plates. 

Items for mid teen boys- new boxers, new socks, teenage deodorants, shower gels, sponges, teenage aftershaves, razors. 

Items for girls- Hairbrushes, hairbands, alice bands, girl deodorants (impulse etc), lip balms etc
 WHERE YOU CAN DROP THEM:
Sussex Removals and storage, Trafalgar House, Quarry road, Newhaven, BN9 9DD

Bin to Ukraine: Wheelie Bins collection points are being organised at local businesses and homes. If you would like to become a collection point please get in touch. Here are the current list of wheelie 'Bin to Ukraine' locations

Whitecliffs Cafe, Bar & Grill, A259 opposite the Lido

Rottingdean Club, 89 High Street, Rottingdean, Brighton, BN2 7HE 

Butterfly Nursery, Meridian Centre, Peacehaven, BN108BB

Peacehaven Town Council, Meridien Centre, Peacehaven

Morrisons Seaford (trolley by checkouts), Dane Road, Seaford, BN25 1DL

The Party Emporium, 36 High Street, Seaford, BN25 1PL

Chyngton School, Millberg Road, Seaford, BN25 3ST

Seaford Primary School, Wilkinson Way, Seaford, BN25 2JF

Annecy School, Sutton Avenue, Seaford, BN25 4LF

Micklefield Nursery, Sutton Avenue, Seaford, BN25 4LN

Sam Baker (Residential location), 10 Cornfield Road, Seaford, BN25 1SW

Rebecca Gurney (Residential location) 129 Southfield, Polegate, BN26 5LZ

Jo Rivett (Residential Location) Coldthrone Barn, Coldthrone Lane, Hailsham, BN27 3PJ

Secure Storage Sussex, Diplocks Way, Apex Park, Hailsham,  BN27 3JU

Java Community Cafe, 23 Warren Way, Woodingdean, Brighton, BN2 6PH

Simply Weigh, 2b St Marys Walk, Hailsham, BN27 1AF

Colourfast, 36 Cheltenham Place, Brighton, BN1 4AB

Lloyds Pharmacy, 2-4 West Street, Rottingdean, Brighton, BN2 7HP

El Barba Roja Barbershop, 16 West Street, Rottingdean, Brighton, BN2 7HP

St Wilfreds Hospice, 1 Broadwater Way, Eastbourne, BN22 9PZ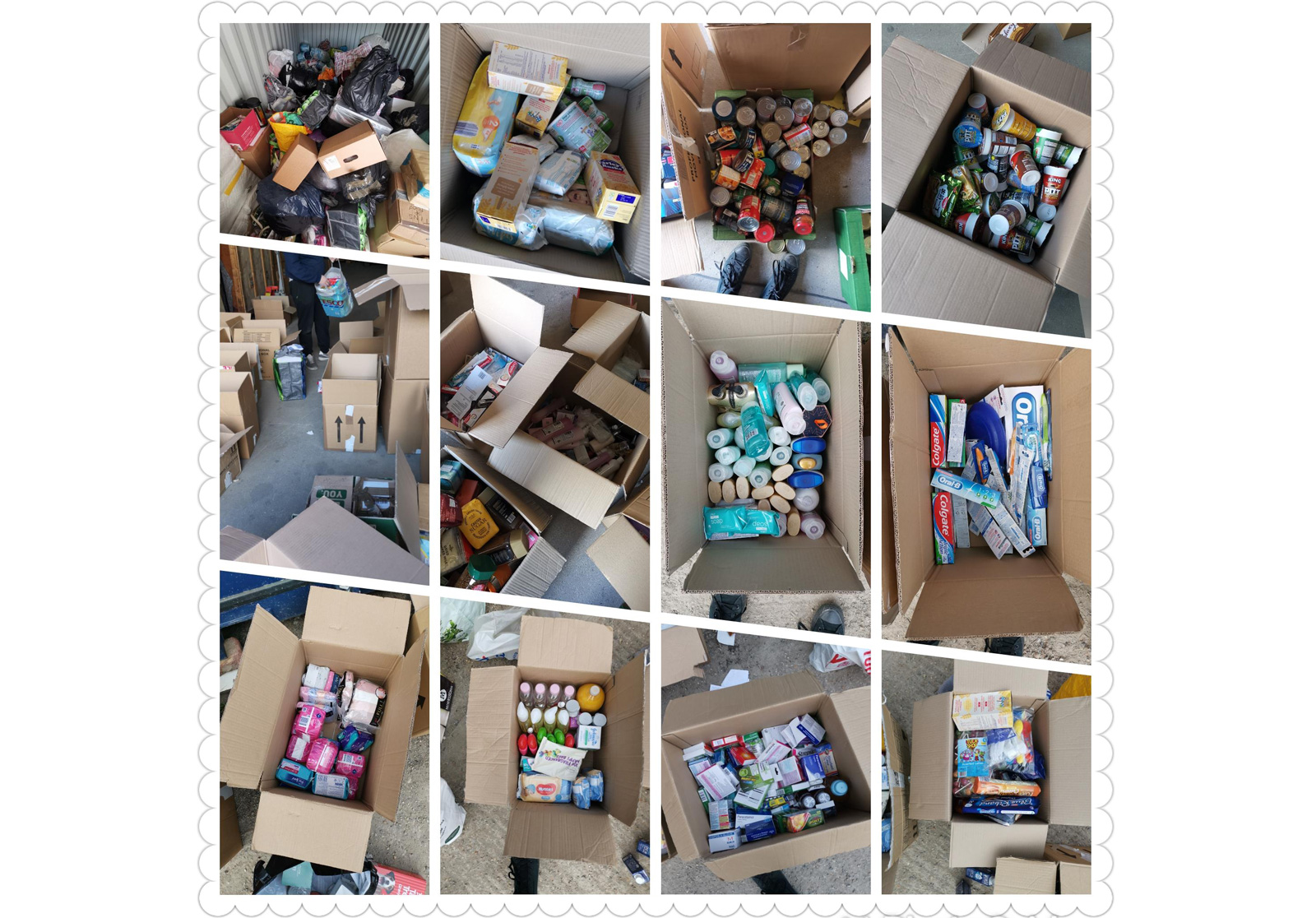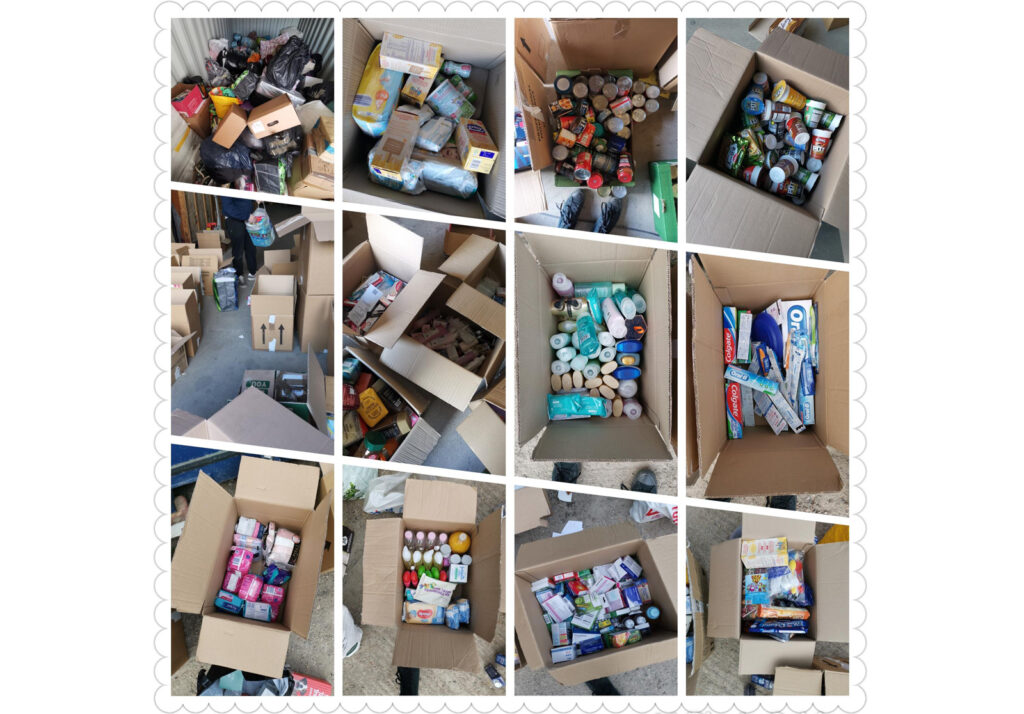 VOLUNTEERS
The team are really busy organising the donations into categorised boxe, then packing and wrapping the loads onto pallets so that the most important and urgently needed items get sent first. Some lovely people were dropping off items and had time to jump in and help, so please feel to help too. Having even just one extra pair of hands made a real difference as we were working so fast to get items ready. SEE OUR WORK You can see what we have been doing at:
BBC South east Today News 15/03/22 1:30pm lunchtime live and 6:30pm live.

BBC Sussex radio with Alison Fearms 16/03/22 morning show

We have been actively promoting our work throughout the local community, by facebook, in schools and with assistance from our local council, Lewes District Council. 

'Bin to Ukraine': Lewes District Council have generously given us a supply of wheelie bins to be used in our 'Bin to Ukraine' appeal, whereby local schools, residents, shops and businesses are acting as collection points. We are then collecting the bins as soon as they are full and taking donations to our warehouse to be sorted and packed. We already have around 20 locations organised with more requests daily such as Morrisons, Party Emporium, Peacehaven Town Council, Seaford Primary School, Chygnton Primary School, Micklefield Nursery, St Wilfreds Eastbourne and many more.

Lewes District Council Facebook Live Q & A 30th March 2022

https://fb.watch/c6QYvBV2kt/

Sussex Live

https://www.sussexlive.co.uk/news/sussex-news/newhaven-removal-firm-overwhelmed-resident-6793843?utm_source=linkCopy&utm_medium=social&utm_campaign=sharebar

Sussex Community Development Association 

https://sussexcommunity.org.uk/wp-content/uploads/2022/03/Health-and-Wellbeing-Newsletter-April-2022.pdf

 
TIMELINE:
| | |
| --- | --- |
| Date | Event/Milestone |
| Tuesday 8th March 2022 | Idea discussed and launched |
| Tuesday 8th March 2022 | First facebook post goes out locally |
| Wednesday 9th March 2022 | Post goes viral and office filled with donations |
| Wednesday 9th March 2022 | First draft of posters made on Canva |
| Thursday 10th March 2022 | Donations continue and a shipping container is filled |
| Thursday 10th March 2022 | Team sort and load van |
| Friday 11th March 2022 | Just giving page launched |
| Friday 11th March 2022 | Load 1 departs UK: 3.5 tonne van load |
| Saturday 12th March 2022 | Load 1 arrives in Poland |
| Sunday 13th March 2022 | Branding concept 'Sussex Aid' born |
| Sunday 13th march 2022 | Just giving 50% of target reached |
| Monday 14th March 2022 | Lewes Council assist by donating Wheelie Bins for 'Bin to Ukraine' appeal |
| Monday 14th March 2022 | Sussex Live coverage by Daniel Blank |
| Monday 14th March 2022 | Printing donated by Tansleys Printers in Seaford |
| Tuesday 15th March 2022 | Just giving target reached 100% |
| Tuesday 15th March 2022 | BBC News South East Live |
| Wednesday 16th March 2022 | BBC Sussex Radio |
| Thursday 17th March 2022 | Justgiving target smased £4985 raised! |
| Thursday 17th March 2022 | Load 2 departs UK: 5 pallets |
| Saturday 19th March 2022 | Just giving £5485 raised |
| Monday 21st March 2022 | Bin to Ukraine: Local business and schools join as collection points |
| Tuesday 22nd March 2022 | Load 3: 25 pallets on an Artic Lorry leaves UK |
| Tuesday 22nd March 2022 | Sussex Express newspaper coverage |
| Wednesday 23rd March 2022 | Load 2 arrives in Poland |
| Wednesday 23rd March 2022 | Featured on Polish News Channel 'TVPM Telewizja Powiatu Milickiego' |
| Wednesday 23rd March 2023 | Sussex Aid Ltd' set up officially |
| Wednesday 23rd March 2024 | Amazon list setup |
| Wednesday 23rd March 2025 | Drawings by Ukrainian children received in thanks & photos |
| Thursday 24th March 2022 | Lions Club meeting Q&A |
| Wednesday 30th March 2022 | Lewes District Council Live Facebook Q&A join as guest speaker |
| Wednesday 30th March 2022 | Featured in SCDA Newsletter |
| Thursday 31st March | Preparations begin for Load 4 |
| Friday 1st April 2022 | Justgiving top 5% crowdfunder last month |
| Friday 1st April 2022 | Bin to Ukraine Bin drop offs continue across Brighton, Seaford and Eastbourne |
| Friday 1st April 2022 | Fat Boy Slim signs items for auction! |
Thank you from all at Sussex Removals